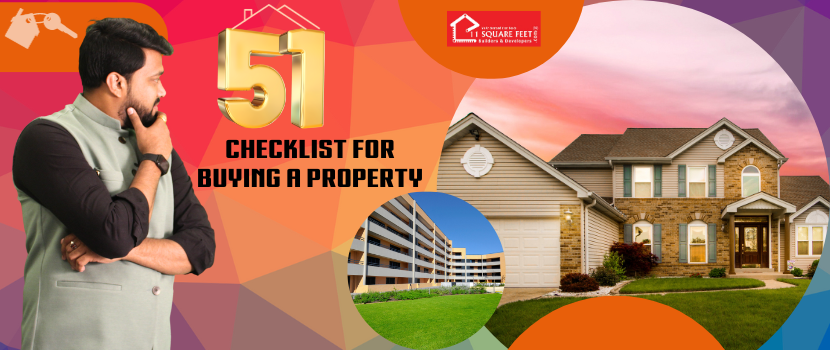 51 Checklist Point
Many of us, when shopping or going on a tour, create a checklist of what to buy and what's important, etc. However, have you ever thought about the various aspects to consider when buying a house?
Friends, buying a home is not less than a dream come true. When buying a house, there are many aspects that need to be carefully examined.
In this video, I'm going to share a 51-point checklist that is essential when buying a property in India. These 51 points are not easily found on the internet and can serve as a valuable guide for you when purchasing a home.
For more detailed information, follow 11SquareFeet, and you can find the 51-point checklist in the bio. Make sure to check it out. Thank you.
Here are the 51 Checklist point list -
1. Set a Budget
2. Arrange finance for down payment
3. Select bank for housing loan
4. Choose the location
5. Type of property
6. Search any property on online property portal web site
7. Telephonic enquiry
8. Short list property according our budget, needs
9. Self - physical survey
10. connectivity - Access to the proerty - School, Office, Transportaion
11. Comparison with related property
12. Construction Quality
13. Water, Power & STP Supply
14. Parking facility
15. Amenities
16. Traffic situation
17. Builder reputation
18. Registration and stamp duty
19. Additional cost involve - GST, MSEB water, Membership etc
20. Tax planning
21. Check the resale value
22. Property insurance
23. Check compliance under RERA act 2016
24. Nature of title of property: (Leasehold, Freehold, or Development right)
25. Title document of the propety (Pawer - sale deed - agreement) 26. Property connecting document
27. General power of attorney
28. Rectification deed
30. Title search and report
31. Agriculture to Non Agriculture land
32. Land use permissions
33. No objection certififcate - Bank loan & Other authority
34. Commencement certificate
35. Property tax receipts
36. Possession Letter
37. Booking form - terms & condition
38. Payment receipt - term & condition
39. Draft of agreement to sale
40. Draft of sale deed
41. Copy of building plan
42. Property card & 7/12
43. Allotment Letter
44. Society NOC - Society balance amount clear
45. Market value of the property
46. Government value of the property
47. Verifiy the identity of the seller
48. Agent check their RERA ID & registration
49. Construction approvals
50. Documents required in case of loan outstanding (NOC, LOD, Outstanding amt)
51. Pending bill checkling electricity, water, gast etc while buying a property.