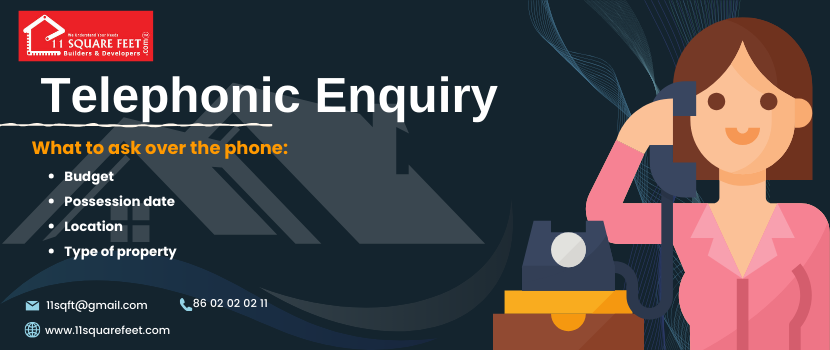 Checklist Point 7 - Telephonic Enquiry
The 7th point out of 51 checklist for property purchasers, by 11 SquareFeet / Amit Raut, highlights the convenience of making property inquiries over the phone when you have a busy schedule.
Q: You want to buy a property, but do you have a shortage of time? You can gather detailed property information from the comfort of your home by making inquiries over the phone. When we obtain information about a property online or through any other means, we can contact the property owner, broker, or sales executive via telephone to gather more details about the property. We can also request additional information via WhatsApp or email. Additionally, you can use online chat services.
What to ask over the phone:
Budget
Possession date
Location
Type of property
For the rest of the information, you can visit the property site yourself. Because buying a property is an emotional decision! Even though everything may seem good, if you don't have a good feeling about the property, you shouldn't buy it. However, our vision should always be forward-looking when it comes to property. We should look for opportunities for future profits. Some property experts believe that property rates in India will never decrease; they will only increase. It means that the property will always yield profits.
To understand the remaining 44 checklist points and follow 11 Square Feet's guidance, stay with us! If you find this video helpful, please share it and save it to avoid future losses when buying property. Thank you!
This entry was posted on October, 07, 2023 at 16 : 21 pm and is filed under 51 Checklist Point. You can follow any responses to this entry through the RSS 2.0 feed. You can leave a response from your own site.