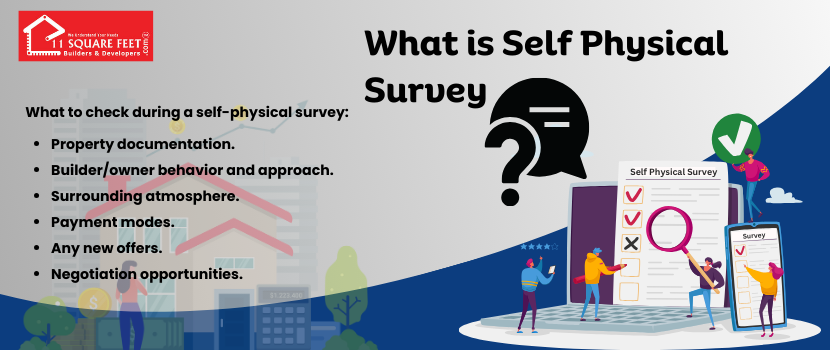 Checklist Point 9 - Self Physical Survey
The 9th point out of 51 checklists for property purchasers, by 11 Square Feet / Amit Raut, emphasizes the importance of conducting a self-physical survey of the property before making a purchase.
"Do you also feel that property is not just an asset but also a feeling? When it comes to buying property, it is always essential to first conduct a self-physical survey of the property. After gathering information about the property online, through phone calls, or other means and shortlisting it, it is crucial to physically visit the property, especially if it is in a good location. A self-physical survey is very important. It allows you to inspect the property for any potential issues.
What to check during a self-physical survey:
Property documentation.

Builder/owner behavior and approach.

Surrounding atmosphere.

Payment modes.

Any new offers.

Negotiation opportunities.
To understand the remaining 42 checklist points and follow 11SquareFeet guidance, stay with us! If you find this video helpful, please share it and save it to avoid future losses when buying property. Thank you!"
This entry was posted on October, 07, 2023 at 17 : 53 pm and is filed under 51 Checklist Point. You can follow any responses to this entry through the RSS 2.0 feed. You can leave a response from your own site.